(𝐓𝐇𝐄 𝐅𝐎𝐄 𝐖𝐈𝐓𝐇𝐈𝐍, 𝐀 𝐍𝐎𝐕𝐄𝐋, 𝐁𝐘 𝐏. 𝐒𝐇𝐄𝐄𝐋𝐖𝐀𝐍𝐓; 𝐂𝐇𝐀𝐏𝐓𝐄𝐑 𝟑; "𝐀𝐔𝐍𝐓𝐘 𝐀𝐍𝐉𝐀𝐍𝐀 𝐌𝐄𝐄𝐓𝐒")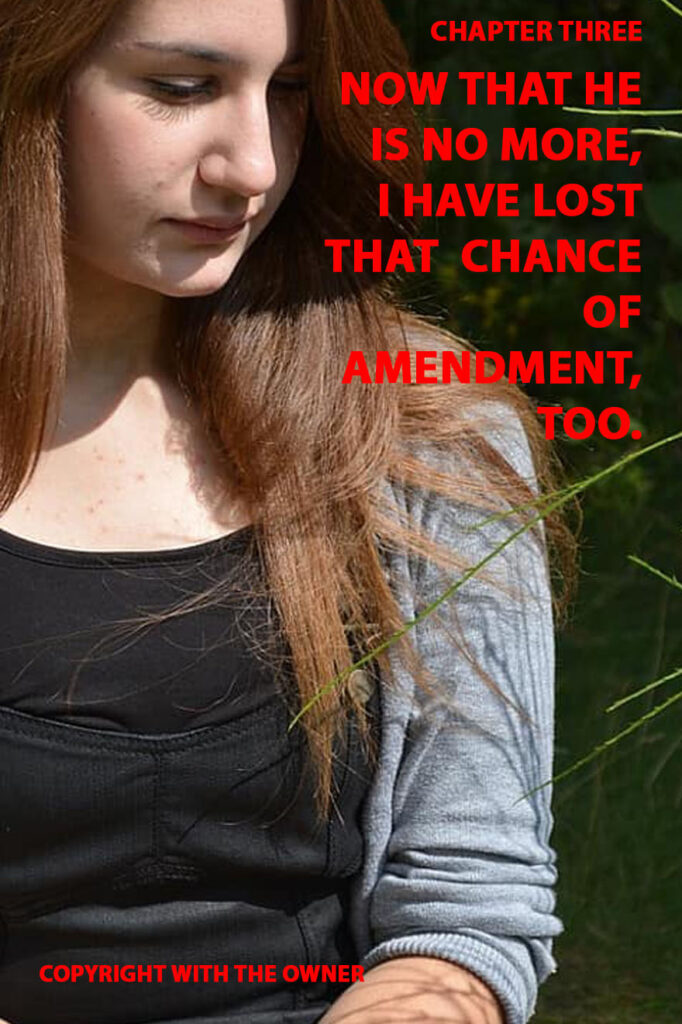 "How are you doing, baby?" Sona heard someone calling from behind.
"What a surprise Anjana Aunty!" she exclaimed as she turned around and saw Aarti's mother, addressing her. "You look far fitter than when I saw you last. You are up so early and bouncing!"
Sona waited for her. She, returning from the market with her groceries, put her bag on a concrete bench nearby to let Anjana reach her.
"Did you move your things from Diamond to Sunwal House?" Anjana asked after she reached Sona.
Anjana added further that some pebble had got inside her shoes. She propped up her walking stick by concrete bench and sat by Sona's grocery bag. She began taking her Adidas off to remove the nuisance from her shoes.
"Yes, Aunty, I did it about a month back."
"Diamond must have hampered your work."
"A lot," Sona said. "Your support during my stay there had been a great help, Aunty."
The mention of Diamond and the help Anjana had given her brought memories rushing to her head.
With Diamond being a little off the way, Sona had asked Ratan, the tatoowallah, to come to Gupta House, Anjana's abode. While she, Aarti, and Neha had waited for him, conversations had wandered to tennis, and Anjana had said that Mangari had great expectations from its female tennis players and had hoped that they were working hard. Neha had requested Anjana to impress on Mangari Gymkhana Tennis Club to get a good coach for winter tennis camp. Anjana had informed that Mohan, Sona's father, thought that current tennis crop of Mangari was abhorrent to hard work and was out only to get tricks.
Not everyone is born as considerate as Dr Amal. Dr Amals are rare gems and you are lucky if you have them around.
Aarti had added that tennis enthusiasts of Mangari knew Mohan's views and that was the reason they didn't have much hope from him. Neha had persisted on her request. Anjana had assured help. She had given a manuscript to Sona that postal department had returned to Gupta House, Sona's postal address, and said to Sona that she should concentrate on her tennis, indicating her writings were inconsequential.
"With Radha gone, darling," Anjana said disrupting Sona's thoughts, "there is no one to reprimand me. I feel like I will disrespect my friend if I didn't take my morning walks regularly."
Sona didn't comment, and, as Anjana began exploring the other shoe for the pebble, she looked at morning walkers.
The sun had risen an hour ago. Harsh cold of January had passed, but the chill still lingered in these hours of early February. Despite that, the bright morning sun had brought out morning walkers in hoards. The walking tracks bubbled with morning strollers, joggers, and hobblers of all shapes and sizes.
After a while, Anjana added further that she had started walking in the evening too, but enjoyed the morning one better. Anjana was wearing a purple tracksuit with green strips at sides. Her red woolen cap extended down to her ear lobes.
"How is the child doing in school?" Anjana, still looking for the pebble, asked Sona. "You did right thing by not taking her out of boarding."
"Yes, Aunty, I think so, too," Sona said. "That was the best for her. I appreciate the advice the Principal gave me at that juncture. She had kept her promise. Except her, none in the school knows yet that Guddi's parents are no more."
Anjana put her shoes on and got off the bench.
"You have to break the news on child someday, Sona. Don't you think so?" Sona agreed with her. She picked up her grocery packets.
To a remark of Anjana about boisterous laughter of a group of people in a corner of the ground as shameless, Sona informed that they were members of a laughing club and added further that, even if they began with a fake laughter, it soon turned into a real one and benefitted like a natural one.
Both women moved out.
"How are you managing in the house, baby?" Anjana asked. "Radha was so meticulous with its upkeep; the lawn, the flower beds, the flower pots; she was so fussy about all of them."
They had reached the pavement outside the ground. Anjana stood there for a while talking.
"Why don't you come along and see for yourself, Aunty? We can take a cab if you feel walking the distance bothersome. Please do come. We shall have our morning tea together."
"Walking is no more a problem, baby," the older woman said even if it seemed she were wishing for a cab, available for hire, to pass by. Even if Sona pleaded to an undecided Anjana to come home, her mention of flower pots had brought the memory of another flower pot rushing in Sona's head.
The flower pot Sona had left on stairs, when the live telecast of a tennis match between Helena Haydon and Anita Safarova had absorbed her, flashed in her head. Her dad had stumbled on that and hurt his knuckles on the wood railing. It had led to a clash between the father and the daughter and her expulsion from the Sunwal House. If only I would have remembered to remove the flowerpot, things wouldn't have come to that pass, Sona thought. Hadn't someone left television set on, I wouldn't have come across the match, either. True, Dad's holding of my returned manuscript, a few minutes ago, by its ear, as if it were some insufferable vermin, had angered me, but I would have managed my wrath. The flower pot, if only had I remembered. This tennis, this makes me insane, I just can't help it.
Tennis obsessed Sona as much as animal welfare, the girl in-paltry-plastic-slippers.
The flower pots, how can I forget the ones Dad had annihilated, Sona thought? Enraged by what had happened, Dad had stopped in the verandah on his way out, and smashed all five flower pots that I had cleaned and coloured that morning. He was shouting all along, 'so people want to make me regret', and then came his full-throated war cry as if a triumphant cannibal was dragging his vanquished, and wriggling, enemy to cook for a communal feast. Mom had come just then and tried to stop him, but Dad ignored her outstretched arm and exited, but not before telling Mom to tell me to get out of his house that very moment. Mom's murmur, 'Oh Mohan, you fool, couldn't you help not wrecking the delicate balance I tried to nurture', rings in my ears ever fresh. She had slump-squatted by the Iron Gate and cried, her frail torso rattling. Had I been less stunned, I would have gone to Mom, hugged and consoled her, but I didn't dare; I couldn't; not knowing who was devastated more; me or Mom.
Anjana stood there having a good look at laughter club members, derision playing on her face and she commented again that they were mad and didn't incite her fancy.
The two walked away from the ground. They turned a corner and moved on.
I have never seen so many life-altering things happen to me as they happened on that fateful day, and so suddenly, Sona thought. If I had the power to put the clock back and relive those moments, I would love to rush to Dad, tell him I was sorry for forgetting the flower pot at the stairs, look at his hurt, give him a cold press to relieve his pain, take him to a physician and nurse him – as much as I could possibly do – back to health. I had promised myself to go and ask for his forgiveness one day, but now that he is no more, I have lost that chance of amendment, too.
Sona lost as huge a chance of amendment as Sitwa, of turning into a Tutu.
Had Anjana looked at her, she could have found tears brimming her eyes.
The Sunwal House was visible in distance.