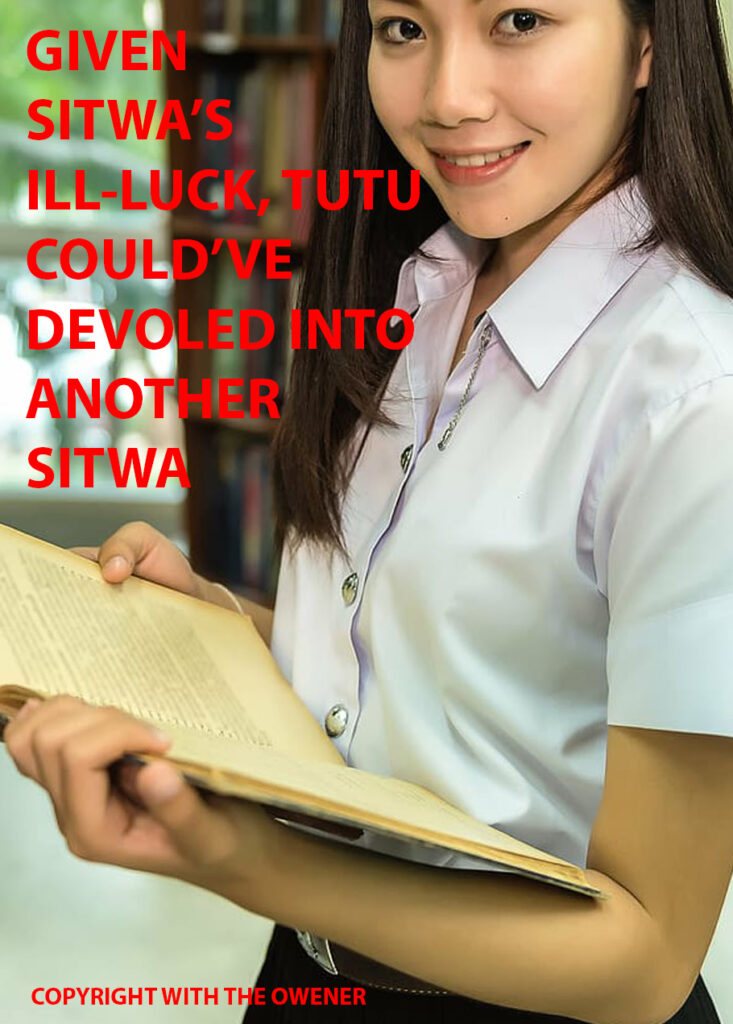 I had met Tutu in a meeting convened by the Development Commissioner to monitor the on-going works. She was assisting the Commissioner. She was hardly 30, of light frame, stood five and half feet tall, and had famous honey complexion of Bengal. She was clad in Salwar and Kurta and wore light kohl in her eyes. It looked as if she was just out of college.
She sat silent through the proceeding, the Commissioner doing most of the talking. When the Commissioner asked her to review progress of schemes of last quarter, she took up the discussion with the ease of a fish to water. As she rattled off development schemes of agriculture, horticulture, drip irrigation, and scores of other schemes, my colleagues exchanged approving looks for the amazing memory of the young officer. But I was hardly there. My thoughts had flown to Sitwa. She was an eight-year-old reedy girl guarding the crop of millets against wintering-warblers. She had a hum on her lips.
Had you deciphered her hum, you could have heard her singing table of numbers. Sitwa could sing table of numbers, not only of whole numbers, but also of their fractional cousins – quarter, half, three quarters, and others. The decimal system still decades away in future, those were the days of yard, foot, inch, and other computing units alike. The tables of whole and fractional numbers bossed the computing scenario. Sitwa's grandpa would order three boys – her elder brother and two cousins – recite table of numbers in hollers. He used to make them recite each ten times, daily, in the evening and in the morning. Sitwa learnt her table of numbers from those hollers.
Not only the table of numbers, Sitwa could learn a design just by seeing someone knit. She would make an article just by looking at it and wouldn't ever forget a recipe once she had come across it. She could create musical notes from a crude guitar made by straining a wire along a bamboo piece. And, point out spelling mistakes of her grandpa's disciples even if he had never taught her. Unknown to them, Sitwa would hang around, watch actions between the teacher and the taught, absorbing as much as she could – a Tom Hanks.
As she walked me to her father, telling that warblers wouldn't raid the millets any more, she talked of travelling Alipurduar with her aunt. Alipurduar was 500 kilometres away in the region where people spoke Bengali. On my asking about the places she had visited, she began rattling off a series of strange names of places – Rajabhatkhawa, Nimati, Jayanti, and scores of others, I was no longer listening to her. I was just gaping at her until we reached her father – my maternal uncle – who shouted her shut. I was sure she was merely half-way through the names of places she had visited.
I had met Sitwa next after a gap of twenty years. Sitwa – now a mother of five, rickety, fingers looking like raptor's paws, dark circle around her eyes – looked 40, at 28. Her eyes had sunk deep in their sockets, cheeks hollowed out 'pushing' the cheekbones up. A dread of an unknown fear was evident in her eyes.
I could see a bird-cage around Sitwa as invisible as the one around Sona. Had she been born a never-say-die-doer Udho or gotten a lucky break as Sewa had gotten, she could have broken the cage around her open and blossomed. Alas, nothing of that ever happened.
I had often longed to ask her, when I met her next, to complete the list of names of places which her father had snapped shut on that day. And now that I had met her, I had looked into her eyes, now, floating in tears. She had sucked her lips in, to keep herself from crying. I couldn't ask her, nay, I couldn't dare ask her. I felt if I asked her, my heart would explode.
Sometimes you say so much without uttering a word!!
The announcement of the tea-break broke my reverie. As we chatted with Tutu over the tea, I thought what an excellent Tutu Sitwa could have turned into. That could have been, had we, as a Nation, cared for the talent the God had bestowed on us. How luckless! What an atrocious example of a wasted talent!! We have turned millions and millions of Tutus into Sitwas. They are now child-bearing gears, hearth-blowers, farm labourers, daily-wage earners, gullible, and untaught.
Given Sitwa's ill-luck, Tutu could've devolved into another Sitwa; and how tragic it would've been!
Unlike other Nations, are we not mortaring diamonds to raise a masonry structure? Will those Nations, who care, and cut, and polish their diamonds well, sparkle, or ours, will?
One Sitwa lost is a million opportunities lost.
Isn't it?